Legend has it that in the faraway Fortune Islands, chests brimming with ancient coins, jewels and precious gems lie untouched underwater. Five fearless pirates have set sail across these perilous seas to lay their hands on the treasure. As they navigate the treacherous waters, these sea rovers scatter multipliers and bonuses across secret paths and along the ship's main cast. So arm yourself with courage and step forward—you're joining their quest for fortune. 
These pirates might be brave, but they're also generous. In fact, you'll be awarded a multiplier if you help their mission by predicting the grand total of the fortune drawn on the map. You may also be given access to one of five Bonus Games, led by the pirates themselves, in a quest to award you up to 1000x. Aboard the sloop you'll also find Paco, the lionhearted parrot—casting additional multipliers, and bringing you a step closer to the precious treasure. 
So, weigh anchor and hoist the mizzen! Discover the hidden secrets of Fortune Islands, and join the hunt for one of the world's greatest hidden treasures!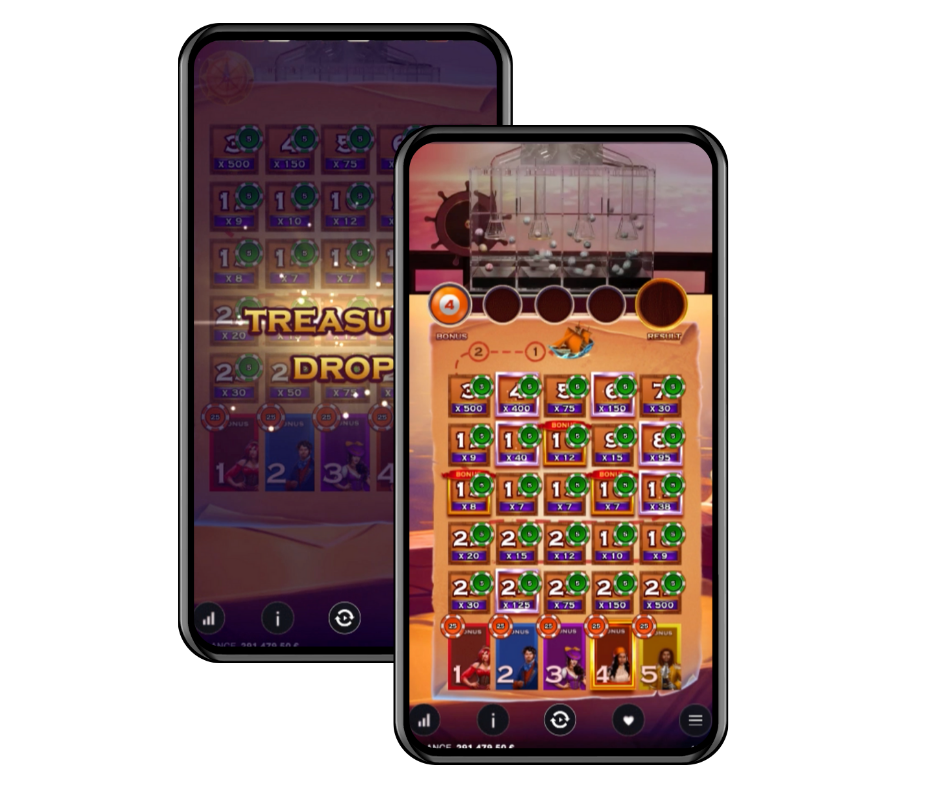 Fortune Islands is a unique game played with a four chamber Live ball drawing machine. Fortune Islands includes thrilling multipliers during every game round on winning numbers, as well as a chance to win one of five unique Bonus Games. The objective of the game is to predict the total sum of the three balls drawn between 3 and 27.
Players place their bets to predict the total value of the three balls drawn by the four chamber draw machine, with the chance of winning multipliers of up 1000x. Players can bet on a whole 25 different betting options, numbers 3 – 27, and each betting number consists of a unique fixed multiplier. Players are also able to purchase 1-5 bonus betting options for a chance to enter one of five Bonus Games.The first ball drawn will determine the Bonus Game that players would enter should they land on a Bonus trigger.
The five Bonus Games are made up of five bonus experiences unique to one another, where players can even get the chance to choose their own luck. All five Bonus Games are packed with superb features, such as pick and click, and the possibility for players to choose their own path. Each bonus game is associated with a colour —red, blue, purple, orange and yellow. 
Fortune Islands is available as both Single Player and Live. Both versions have the same rules and gameplay. Players can click the 'Go Live' button to transition to Fortune Islands: Live, for added suspense and thrill.
Our four chamber ball drawing machine draws four balls from the four different chambers. The first chamber is filled with five coloured balls numbered 1-5 which correspond to the five unique Bonus Games. The remaining three chambers all consist of balls numbered 1-9 which correspond to the Main game betting positions on the map.
To begin, players place a bet on one of 3-27 betting cells according to their sum prediction.
Each of the numbered betting cells have base multipliers associated which range from x7 to x500, which may be increased by additional multipliers.
Once the betting time has expired, through RNG, Paco the Fortune Parrot will strike random lucky numbers to increase base multipliers, and apply Bonus triggers. As the balls begin to draw the bonus ship will sail around the betting cells, stopping on the winning number, that is the total sum of the 2nd, 3rd and 4th chamber.
Players win if they predict the total sum of all three balls, and if this number is also among the Lucky Balls chosen by Paco, their payout is increased. If the total sum of the number balls is equal to a bonus trigger, the bonus game which corresponds to the first ball drawn will be triggered.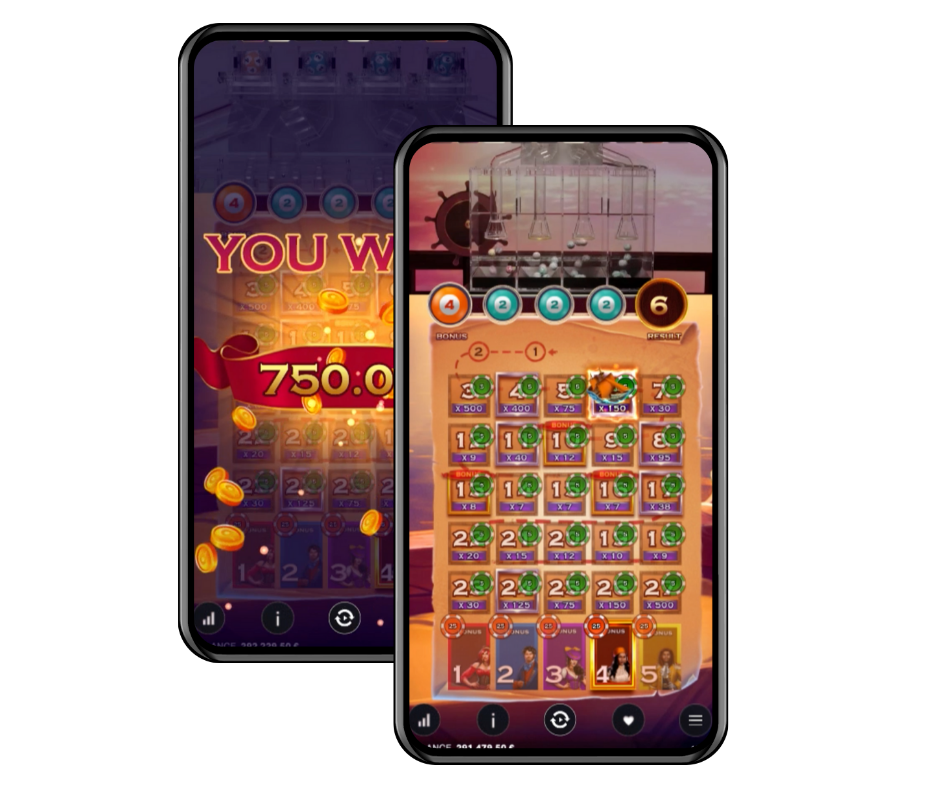 Five Bonus Games to soar
your wins even further
To participate in the Bonus Games, players need to place a bet on one of the five unique Bonus Games numbered 1-5 showing the unique colour and captain corresponding to the five bonus balls in the first chamber. Bonus triggers are added to lucky betting cells and highlighted on the betting map. If the total sum of the number balls is equal to a bonus trigger, the bonus game which corresponds to the first ball drawn will be triggered.
CAPTAIN ANNE'S SLOT – BONUS GAME 1
Red Bonus Game is an animated 3×3 slot machine with three paylines in which players are awarded one to three spins to win up to x1000 by matching winning combinations. All winning combinations are displayed on top of the slot at all times and highlighted on every win.
All symbols pay from left to right except for the barrels which can match anywhere along a payline.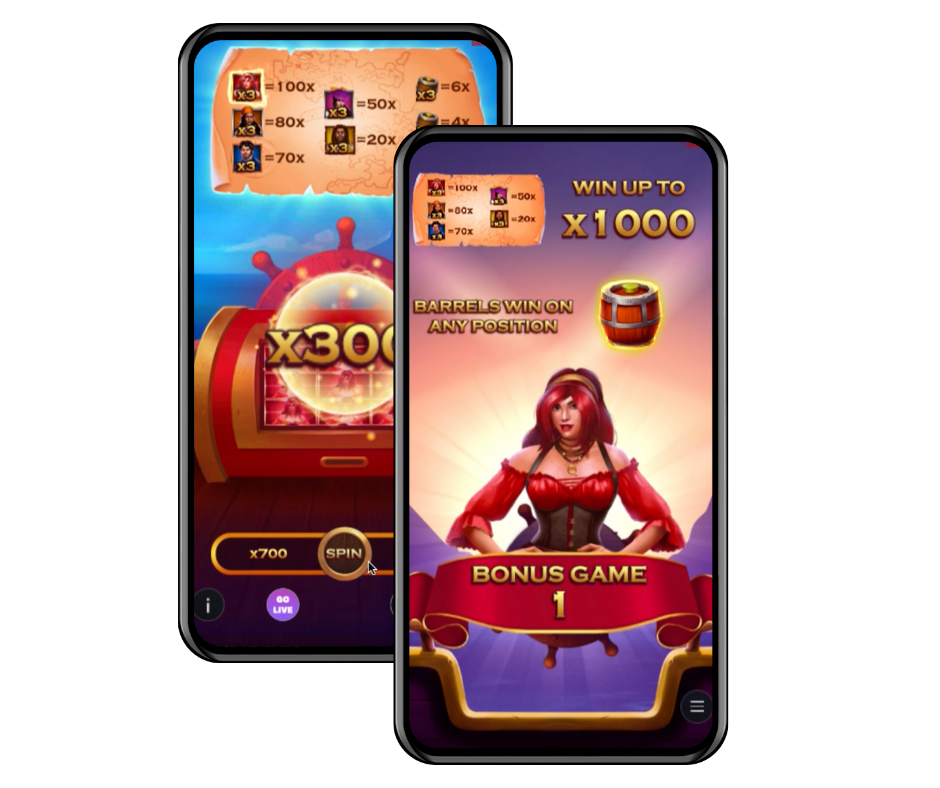 CAPTAIN ANGLER – BONUS GAME 2
Blue Bonus Game is a Pick and Click game in which players are awarded oneto threepicks to avoid bombs and collect multipliers. During each of the three possible Bbonus Ggame rounds, the player must pick one of six selections to reveal what is hidden beneath.
Here, you need to pick which one you think will reveal a multiplier. A bomb is present beneath one or more of the selections, which will end the bonus round if picked.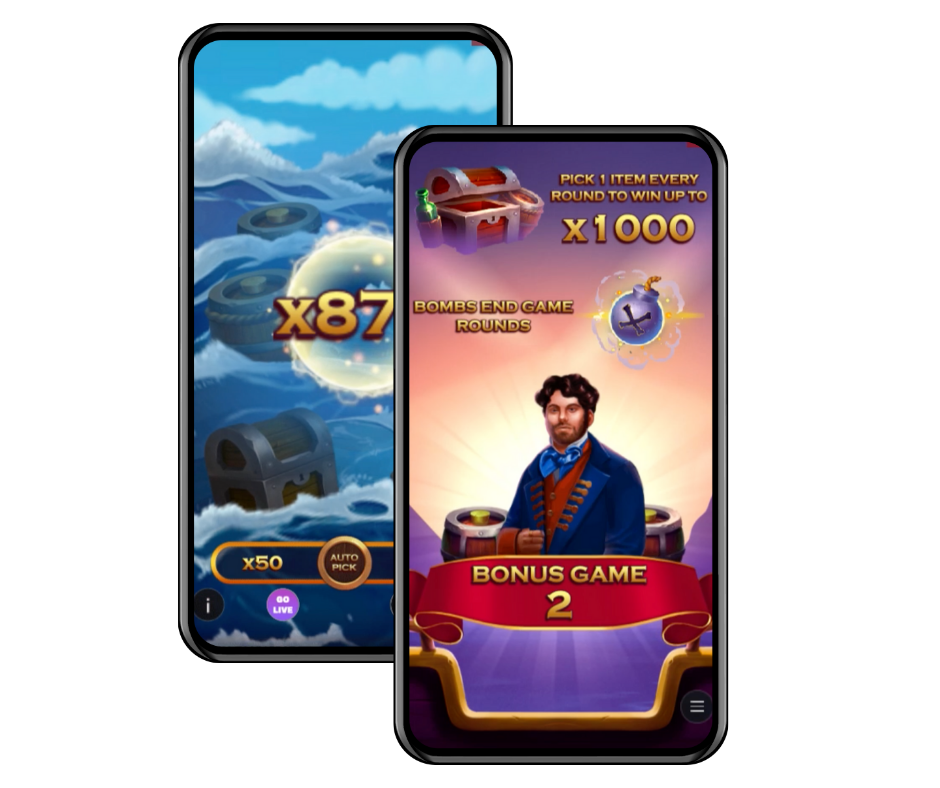 CAPTAIN MARY MAST – BONUS GAME 3
Purple Bonus Game is a themed animated Ladder game in which players watch as money bags reveal either multipliers or arrows which advance players to the next level for high value rewards of up to x1000. Players begin at the bottom level and a marker will sweep left-to-right until Paco the Fortune Parrot chooses one of the money bags.
Stopping on a multiplier will collect that multiplier which is awarded to the players and end the bonus game, stopping on an arrow will advance the player to the next level, where they could win even higher prizes.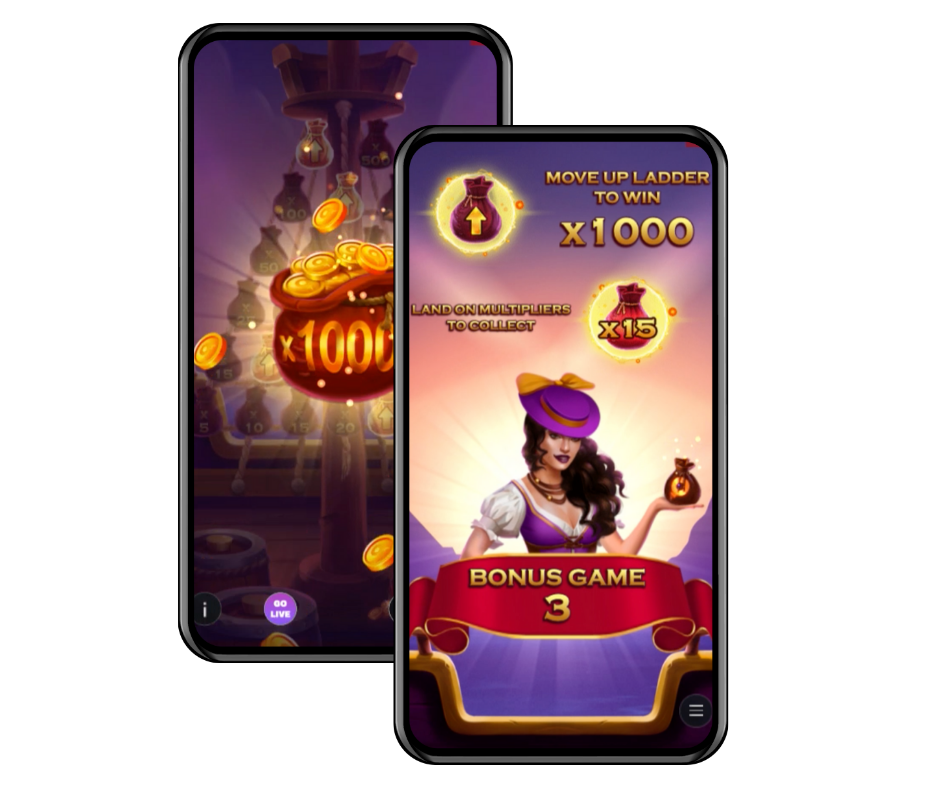 CAPTAIN EIGHTLEGS – BONUS GAME 4
Orange Bonus Game is another player choice in which players can choose which one of three paths the ship will travel through, collecting multipliers or ending early by crashing into a kraken.In both instances, what was collected is applied to the player's bonus bet.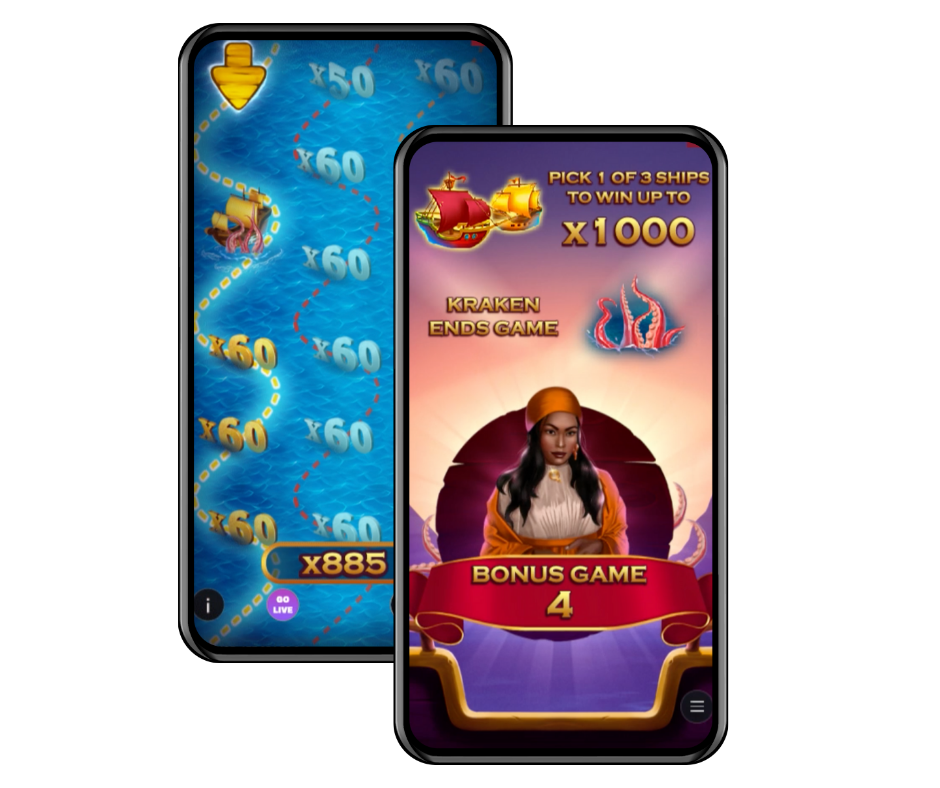 CAPTAIN SAL SAILS – BONUS GAME 5
Yellow Bonus Game is an animated adventure map. The yellow ship travels along collecting multipliers and hoping to avoid the kraken to win up to x1000 the player's bet placed on the bonus bet.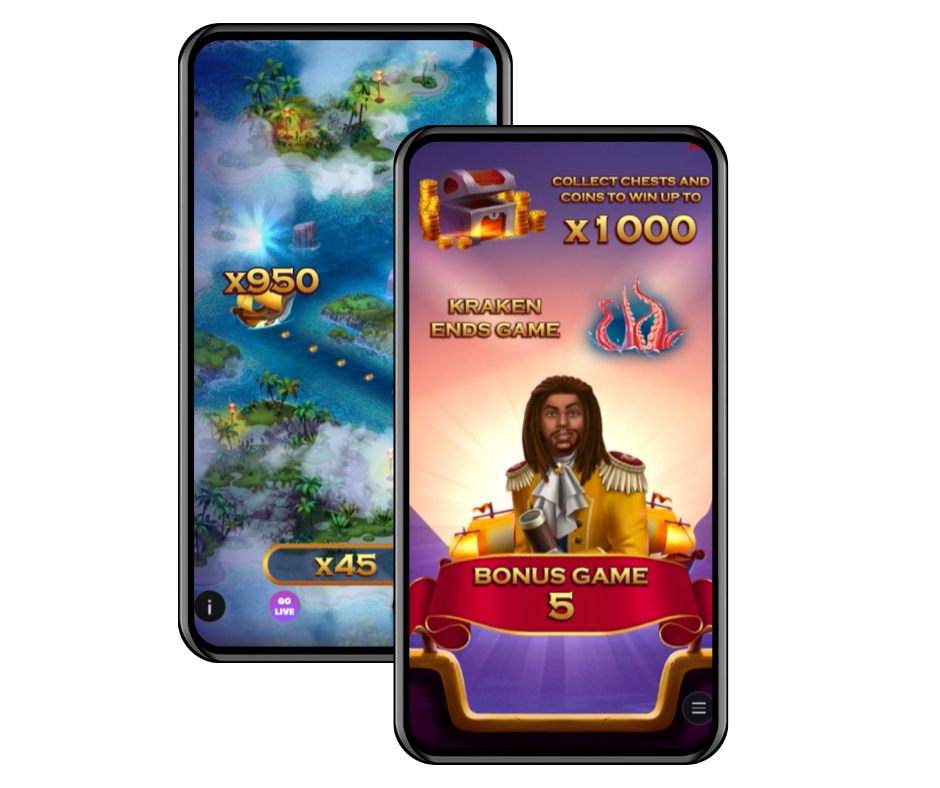 Game Name
Fortune Islands: Live
Game Type
Live Casino Game
Schedule a demo
Come and see for yourself! We have games ready to demo and blow your mind.