The game of roulette has never been more exhilarating than with Big Bank Roulette. Combining the best of Live Roulette with the latest in RNG gameplay,  Players can enjoy all the traditional roulette bets, but with the added excitement of Lucky Numbers and Lucky Payouts thanks to the Piggy Bank Multiplier drop.
Instead of a traditional roulette wheel, Big Bank Roulette uses a ball drawing machine loaded with 37 balls, each representing a number between 0-36. The objective is the same as traditional roulette – predict the winning number.
But players experience an elevated level of excitement and anticipation with every game round, as the Piggy Bank drops its multipliers, adding an extra layer of thrill to Big Bank Roulette. This unique feature maximises the excitement and keeps the players on the edge of their seats, making for a truly unforgettable gaming experience that they'll love!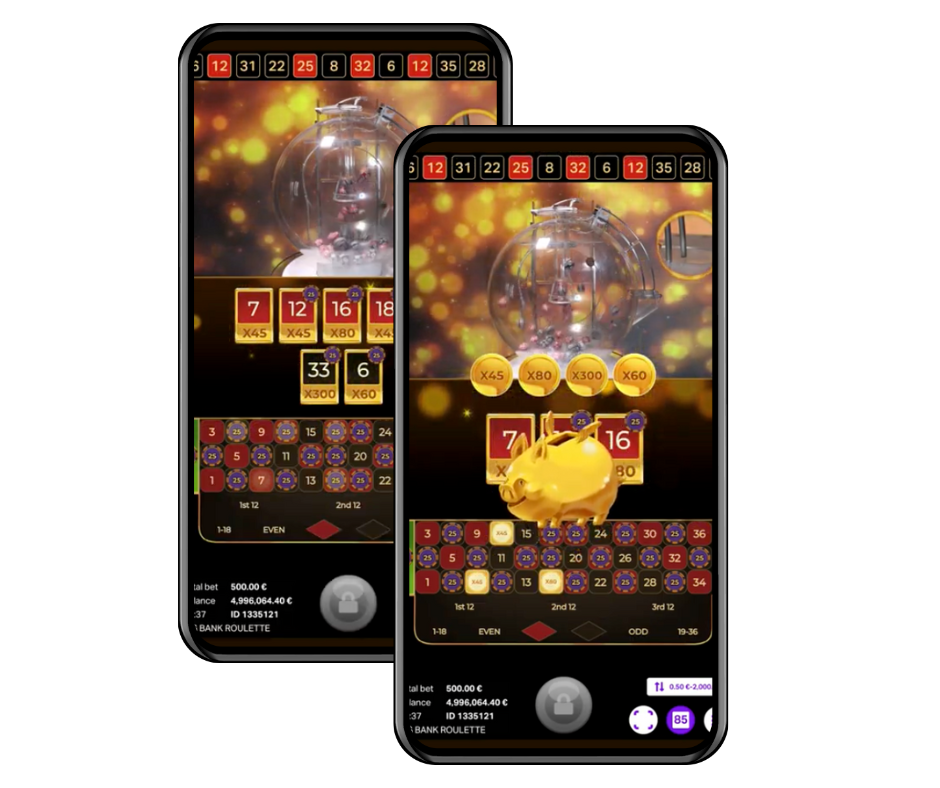 Get ready to play Big Bank Roulette and experience the ultimate combination of classic roulette gameplay with the thrilling Piggy Bank Multiplier drop! Start by placing your bets on various bet types such as Straight Up, Split, Street, Corner, or Line bets, both Inside and Outside the table.
As the game begins, up to 3 lucky numbers will be randomly generated, offering increased payouts if they match your bets. But the excitement doesn't stop there! The Piggy Bank may drop even more multipliers on additional numbers, giving you the chance to win mind-blowing payouts of up to 1000x!
Once the bets are closed, the ball drawing machine will select a ball from the drum containing 37 numbered balls. If the drawn ball matches any of your bets, you win!
However, the real thrill awaits if the ball matches one of the Piggy Bank Multipliers and you have a Straight Up bet covering it. In this case, you'll receive the corresponding increased payout.
Are you ready to take your chance at winning big with Big Bank Roulette? Place your bets and let the excitement begin!
Game Name
Big Bank Roulette: Live
Game Type
Live Roulette Game
Volatility
High Volatility on straight bets
RTP Straight Up Bets
97.28%
Schedule a demo
Come and see for yourself! We have games ready to demo and blow your mind.